WRAP-UP
Breakfast at Joey's Diner & shopping
at Harbor Freight - March 2nd, 2013
(It's only a memory now. See the Wrap-up Below.)
We will meet 8:00am at Dunkin Donuts, Burlington, MA and car pool to Joey's &
Harbor Freight. Remember to clip and
bring your coupons.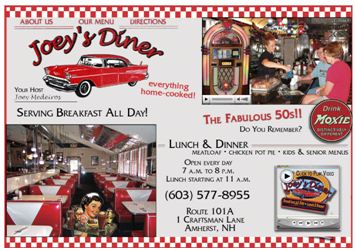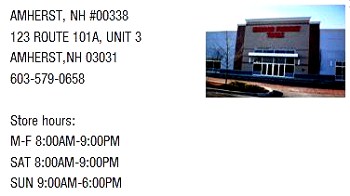 Joey's Diner/Harbor Freight Big Adventure 2013 Wrapup
Dominators, thanks to all who attended the Joey's Diner/Harbor Freight Event last Saturday. Because of the overwhelming response, next year we will be conducting a lottery to select the lucky participants. A few of you will be asked not to attend; You know who you are and why. Next year, 2 or 3 mini buses or 1 Greyhound Bus should workout better. Had we known how the day would unfold, it would have been best to leave the driving to someone else anyway. Glenn, we really shouldn't have had all that liquor with us. Let's just tell the other members it was a minor fender bender and leave it at that. Ray said we can pound the dents out of the roof at his garage sometime later. No doubt The Mass State Police could have been a lot harder on us. They must have been intimidated by the Dominators Jackets.
That was certainly an ugly incident at Joey's Diner. We were lucky no one from the Dominators had to stay in jail overnight. Bob, let's remember not to yell "Food Fight" in an overcrowded restaurant again. The Amherst, NH Police were uncharacteristically lenient. Thanks Kevin, you were the only one carrying a large amount of cash; it sure helped. Chances are we won't be going back to Joey's until after the 1 year ban anyway.
Harbor Freight turned out to be a whole different experience. Who would have guessed that The Dominators would turn out to be their One Millionth Customer. What the hell are we going to do with all those free tool chests? Also, I never would have guessed that for exactly $63.47, with the correct combination of 20% off, free and sale priced coupons, you can actually buy enough tools and equipment to build a Nuclear Powered Submarine.
Please, please, please, for those who attended, remember you are sworn to secrecy. Not a word about the totally out of control situation that occurred when we stopped for a few cold ones on the way home. I don't thinkany of us want to relive that nightmare. Keep it in the vault. It was not for the faint of heart, but an entertaining and unforgettable trip anyway. Can't wait until next year.
Respectfully submitted,
Clay Eastman